Your Primary Professional Network in Washington, DC
WHY WE ARE IMPORTANT TO YOUR CAREER
A November 2011 article in The Economist ("Contact Sports") stated that "in the rarefied world of the corporate board, a good network matters."  The article went on to mention that executives with 400 contacts are, on average, paid 6 percent more than those with 200.  For non-executives, the gap is 14 percent. 
The Washington Intergovernmental Professional Group, LLC (WIPG) is the premier organization that introduces mid- to high-level professionals in the DC Metropolitan area to newly appointed Ambassadors from around the world, as well as newly elected Members of Congress.  We hold monthly networking events as a means of providing professionals extended exposure and access to key policy makers in the city.
WHY THERE IS A NEED FOR OUR SERVICES
As the demand for strategic partnerships and stronger networks with private and public sector groups continues to grow, it is clear that a need exists for DC-based professionals to expand their contacts among other key policy makers, business executives, political and community leaders. 
In the current economic times, DC-based professionals will need to depend on such contacts to obtain valuable information in the most cost-effective manner to ensure the best decisions are made when carrying out their business plans and policy goals. 
With the election of new members in the US House of Representatives and the US Senate, the demand to interact with the Freshman Class of this Congress becomes even more apparent. WIPG can help you develop and organize Congressional Meet and Greets, staff briefings, and fly-in activities specifically designed for your needs that would allow for the continued growth of your contacts in Congress at very little cost.
WHY WE CAN BE A USEFUL RESOURCE FOR YOUR NEXT JOB
Networking is the best way to find your next job, especially since the vast majority of job openings are never advertised.  They are usually filled via word of mouth.  Unfortunately, many job seekers are hesitant to take advantage of networking opportunities because they feel it is a waste of time, nor do they recognize the value of making key necessary contacts.  But networking is not a useless excercise—it's about building relationships. As you look for a new job, these relationships can provide much-needed feedback, advice, and support.
Networking may sound difficult, or even intimidating—especially when it comes to
finding a job or asking for help—but it doesn't have to be. Networking can be
rewarding, and even fun.  It can be a useful tool even if you are new to the DC area and do not know that many people. 
Luncheon (Invitations Sent to WIPG Members and Select Guests)
Hosted by WIPG and the World Trade Center of Washington, DC
Featuring:  His Excellency Tihomir Anguelov Stoytchev
The Ambassador of the Republic of Bulgaria to the United States of America
Wednesday, October 10
 
Reception (Invitations Pending)
Hosted by WIPG and the Embassy of the Republic of Uzbekistan
Featuring:  His Excellency Javlon Vakhabov
The Ambassador of the Republic of Uzbekistan to the United States of America
Tuesday, October 30
 
UPCOMING WIPG MEMBER EVENTS
Federal Government Contractors FISCAL NEW YEAR Soiree - Networking Event
Hosted by WIPG Member Jennifer Schaus
October 22
Washington, DC
Information:   https://fiscalnew102218.eventbrite.com/ 
Class:  So I have a GSA Schedule, Now What?
Hosted by WIPG Member Jennifer Schaus
November 5
Fairfax, VA
Information:   https://vaptap.ecenterdirect.com/events/2414 
Groundbreak – The Construction Conference
Hosted by WIPG Member Jennifer Schaus
November 13 to 15
Austin, Texas
Information:  https://www.procore.com/groundbreak/schedule 
Celebrating the William Meredith Foundation Annual Award for Poetry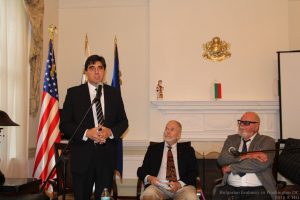 On September 15th, 2018, a poetry event was held at the Bulgarian Embassy to celebrate the 2018 William Meredith Award for poetry awarded to Mr. James Beall, a professor at St John's College in Annapolis, Maryland. An exhibition of sculptures by Mrs. Nancy Frankel was also presented at the event.
The program included a recitation by James Beall from his books "Onyx Moon" and "Republic". Mr. Beall and Mrs. Franklin were presented by Mr. Richard Harteis, founder and president of the William Meredith Foundation. Two short films on the famous American poet William Meredith were shown.
In his opening remarks ambassador Tihomir Stoytchev highlighted the role of the William Meredith Foundation in supporting Bulgarian poets and artists, as well as promoting Bulgarian poetry and culture around the United States.
Join Online Using Your Visa, Mastercard, Discover, or American Express!